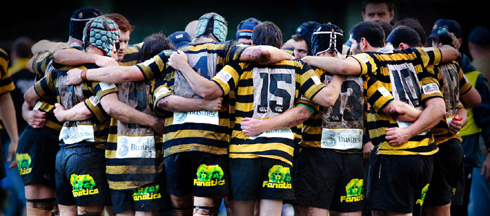 (c)Special thanks to sports historian Sean Fagan for his research & insight into the history of rugby in the Balmain area.
Rugby in the Balmain area was first established in 1873 with numerous local sides becoming some of the oldest rugby clubs in the world. This pre-dates the invention of the telephone, the gramophone & even the light bulb.
Balmain Rugby Football Club (1873) were one of the foundation clubs of Australian rugby when one year after its creation the Southern Rugby Union was created. The NSWRU (The Southern RU) was established in 1874, well before the Unions of Ireland (1879), Wales (1880), South Africa (1889) and New Zealand (1892).
Balmain won it's first premiership in the first year of competition; 1875 when captained by Australian cricket captain Billy Murdoch & in the early days its playing ranks included NSW Premiers, Governor Generals, gold diggers, boiler makers & rabbitohs alike.
The Evening News reported on Saturday 27 June 1874 that "The uniform of Balmain was a dark blue and white striped jersey and stockings, white flannel pants, and scarlet cap. The uniform…was imported especially for them by Mr. C. Hemsley, and by the way it stood the mauls on Saturday, reflects great credit on Mr. Hemsley's choice."
The captain of Balmain's 1875 winning premiership team was W.L Murdoch who was also Australia's second ever cricket captain and the first player to score a double century in a test match. Billy was literally Australia's first sporting superstar long before players got Beckham-esque tattoo's or starred in commercials. (see details of Billy's life below)
Sir Henry Parkes "the Father of Federation" & a Balmain local was also known to have attended games at Birchgrove Oval in the early days. As did Sir John Robert Kerr, former Governer General of Australia whose father, a local boiler maker, played loose head forward for the club. Balmain is also of course the birthplace of the great Dally Messenger.
At the same time other Clubs were introduced into the area such as Balmain Ormonde, Balmain Wellington & Balmain Alvira.
The popularity of rugby & other football codes in Balmain in the late 1880s & early 1890s led to Balmain Rugby Football Club (1873) giving way to all these new clubs from 1889 onwards.
In 1900 when the district scheme started Balmain District Club was founded and the Club adopted a black jersey with a 6 inch single gold bar. We are unsure why these colours were chosen other than perhaps one of the existing clubs in 1899 in the Balmain area had them. However it may also be that black & gold were two of the three colours of the very prominent Wallaroo FC's jersey of the 1890s (red was the other). See the bottom of this page for more info on the black & gold colours.
Famous Balmain club members from the early days include big Billy McKell who played wing in 1909 & 1910 & later became New South Wales Premier & Australian Governor General. (more Billy McKell info below)
Balmain Rugby Club continued to prosper until WW1 but the Great War took its toll with the vast majority of the team going off to fight the wars at Gallipoli & the Somme. Faced with the loss of many of their players killed at battle, Balmain merged with Glebe in 1919, to form the Glebe-Balmain RFC.
The newly merged club had tremendous success in the 1920's winning four Premierships before a lack of playing fields saw the team begrudgingly become Drummoyne RFU when the local council rail-roaded the Club into a name change in exchange for a ground to play on. Many players refused to play under the new monicker and the Drummoyne Club almost folded. It survived and continues to this day.
From 1919 – 2004, Balmain did not have it's own rugby club until a couple of rugby fans over a quiet beer decided to re-establish Balmain Rugby Club and in 2005 the Club was re-admitted into the NSW Suburban Rugby Competition.
Since 2005 the club has grown enormously, from fielding 2 teams in Division 5 in 2005, to fielding 5 senior teams plus a Colts team in Division 1 in 2013.
In 2010 Balmain won the 1st and 2nd grade Premierships with resounding victories as well as making international press when Wallabies Drew Mitchell and Matt Giteau pulled on the famous muzzled wolves kit. In 2011 the top 3 grades made the Semi's as did Colts.
In 2012 Balmain Rugby signed world famous French star Sebastien Chabal to don the famous black and gold hoops for them. Gaining incredible exposure it also provided a great experience for our players as they trained, drank & drank with with the legend.
The Club also won the Division 2; 1st and 2nd grade Premierships in 2012 and successfully won the NSW Suburban Rugby Unions Cowboy Cup for the most successful Club in all Divisions.
In 2013 Balmain were joint Kentwell Cup Premiers in our first year in Division 1.
Balmain Rugby Club is committed to providing both players and supporters a competitive club with an emphasis on social enjoyment. The annual Pub Golf and Ladies Day have already gained renown throughout the area as days not to be missed (or perhaps remembered!).
Balmain Rugby is Australia's fastest growing rugby club and is looking for players, coaches, managers and supporters who are keen to enjoy their rugby and more importantly, enjoy themselves.
If that sounds like you then hope on board for the ride of your life. We Are Balmain!
Balmain reps 1882-1914
First ever NSW team in Aug 1882 (def QLD at the SCG) included Balmain players Henry Creer & Bob Thallon.
First ever NSW team to tour overseas (& first international touring rugby team anywhere in world) in Sept 1882 included Balmain players C Hawkins, Bob Thallon & Michael Howard.
NSW Waratahs reps from Balmain RFC 1873-1899:
Henry Creer 1882–1884 3 games
Bob Thallon 1882–1883 10 games
Ewen Cameron 1882–1888 12 games
Michael Howard 1882 7 games
C Hawkins 1882–1884 8 games
Charles Cameron 1883–1886 6 games
J Vaughan 1884 1 game
S Dean 1884 4 games
Henry Woolnough 1886 6 games
G McGregory 1895 2 games (may be different Balmain club)
NSW Waratahs reps from Balmain District RFC 1900-1914:
Ed Halloran 1900–1902 6 games
Alf Dobbs 1901 3 games
Robert Graves 1907 4 games
Bob Craig 1908–1909 4 games
George Widmer 1909–1910 7 games
Fred Kirkby 1911–1912 4 games
Wallabies 1899-1914:
Bob Craig 1908-09 1 Test (v Wales)
Robert Graves 1907 1 Test (v NZ)
About Billy Murdoch
William (Billy) Lloyd Murdoch (18 October 1854 – 18 February 1911) was an Australian cricketer, who captained the Australian team on tours to England in 1880, 1882 (when the Ashes legend was born), 1884 and 1890. Murdoch was born in Sandhurst (now Bendigo), Victoria, to Gilbert Murdoch and his wife Susanna (née Fleigge).
Early in the 1860s, the Murdochs moved to New South Wales, and Billy played for the Albert Club with Fred Spofforth. He made his first-class entry in 1875, at the time regarded as the finest wicketkeeper in Australia, and a highly-rated right-handed batsman. He played in the second Test match ever played, the 1877 clash against England at the Melbourne Cricket Ground (MCG). Later that year, he qualified as a solicitor and opened up a practice, "Murdoch & Murdoch", with his brother Gilbert.
Billy Murdoch established himself as one of the era's greatest batsmen over the next few years, leading Australia in several Test series against England. In 1881-82 he became the first man other than W. G. Grace to score a first-class triple century when, as captain, he made 321 for New South Wales against Victoria at the SCG.[2] The innings comprised 38 fours, nine threes, 41 twos and 60 singles from all of ten Victorian bowlers. It was this knock which established him in the public reckoning as Australia's finest batsman. So unvanquishable was he that Tom Horan (with whom Murdoch would share many a fine batting stand in the years to come) was reduced to bowling leg-theory, the first known instance of that controversial tactic.
Murdoch was never far from controversy. His omission as wicketkeeper in the very first Test resulted in Australia's premier fast bowler, Fred Spofforth, boycotting the match. In 1884 as captain of Australia he was involved in the players' strike, where the Australian players refused to play unless they received a greater share of the gate takings. He was also the batsman whose contentious runout caused friction between New South Wales and a visiting English team led by Lord Harris which also caused a spectator riot.
His best Test performances more often occurred in England where both his Test hundreds were scored, 153 not out in the first Test in the old country in 1880 at The Oval and 211 at the same ground four years later.
In 1878, Murdoch toured England and North America with Australia's first representative cricket team, participating in a famous victory over an MCC side. On the 1880 and 1884 tours of England he led the Australian batting averages. In England, he was regarded as a superb captain and enough of a gentleman to be invited to captain Sussex, which he did for several seasons. He was widely regarded the finest Australian batsman of his day, being bettered only by the English champion WG Grace.
Cigarette card of Murdoch as an England player. He is one of only a handful of players to play Tests for more than one country Murdoch was more of an off-side player whose drives and cut strokes were regarded as among the best of his day; but his leg-side play was reputedly not so strong, and his ability against good spin bowling was not as impressive as it might be. Also, he was believed to be lacking in command against top-class pace bowling on difficult wickets; if conditions, were perfect, however, his batting often followed suit.
Later in life Murdoch settled in England, and he and John Ferris became the first cricketers to represent two nations at Test level when the two former Australian team-mates represented England against South Africa in Cape Town in March 1892.
He again visited England in 1890, and although he topped that season's averages, he did not have an opportunity to regain his best form. He then settled in England, qualified for Sussex, and captained the county for several seasons. His style of play did not favour him in wet seasons, but he made many good scores over a period of about 15 years. Among these may be mentioned 155 for London County against Lancashire in 1903, and in the following year 140 for Gentlemen versus Players, though he was then in his forty-ninth year.
Murdoch's standing as one of the greatest first-class batsmen of his era were strengthened by his statistics; 16,953 runs scored in 391 matches at the average of 26.86 at a time when batting averages were much lower than in modern times.
He died in Melbourne, Australia in 18 February 1911; present at the Test match between Australia and South Africa, he was seized with apoplexy during the lunch interval and died later in the afternoon. His body was embalmed and brought back to England for burial at Bethnal Green in the east end of London. Murdoch's best Test batting score of 211 was made for Australia against England, The Oval, 1884. It was the first double hundred in Test cricket. His Test captaincy record for Australia was: 16 matches, five wins, seven losses, four draws.
About Big Billy McKell
Sir William John McKell GCMG KStJ (26 September 1891 – 11 January 1985), Australian politician, was Premier of New South Wales from 1941 to 1947, and was the twelfth Governor-General of Australia.
McKell was born in Pambula, New South Wales, the son of a butcher. He was educated in Sydney at Bourke Street Public School and became a boilermaker, and was state secretary of the Boilermakers' Union from 1915.
He was elected to the New South Wales Legislative Assembly as a Labor member for Redfern in 1917 and retained the seat until he resigned to become Governor-General in 1947, except for the period of proportional representation (1920-1927), when he was a member for Botany. In 1920 he married Mary Pye. While in Parliament he studied law, and became a barrister in 1925. In Jack Lang's Labor governments of 1925-27 and 1931-32 he was Minister for Justice, and was also Minister for Local Government in 1930-31.[1]
During the 1930s McKell became a leader of the opposition within the Labor Party to what was felt to be Lang's dictatorial rule and his electoral failures. In 1939 he displaced Lang as Labor leader and Leader of the Opposition. In 1941 he became Premier when he led Labor to a convincing victory in the state elections, mainly by concentrating on country seats.
During World War II he became a close collaborator of Labor Prime Ministers John Curtin and Ben Chifley, being a particularly close friend of the latter. In February 1947 Chifley gained formal agreement from King George VI for McKell's appointment as Governor-General. At the time the appointment was announced, McKell was still Premier of New South Wales, although he had already decided to retire from active politics.
Chifley was determined that the Governor-General who succeeded the Duke of Gloucester should be an Australian, and he seems to have deliberately chosen a Labor man with a working-class background to make a political point. There was an outcry from the Liberal opposition and the conservative press: Robert Menzies called the appointment "shocking and humiliating". There was some resistance in London; but the days when the King could question an Australian Prime Minister on this matter had passed. McKell kept a dignified silence on the matter of his appointment, rather than conducting a public defence of it. Nevertheless Chifley publicly argued that any suitable Australian should be capable of being chosen as governor-general.
Once McKell took office, however, the continuing respect for the Crown and its representative meant that there was no further criticism. McKell carried out the usual round of his formal duties with dignity, and succeeded in winning over all but the most inflexible anglophiles. When Menzies succeeded Chifley as Prime Minister in December 1949, his relations with McKell were cordial, if not exactly friendly.
The most controversial moment in McKell's career came in March 1951, when Menzies asked him for a double dissolution election. Labor had retained control of the Senate after the 1949 election, and the Senate had referred the government's banking bill to a committee. Menzies argued that this constituted "failure to pass" in terms of Section 57 of the Australian Constitution.
Many in the Labor Party, though not Chifley, thought that McKell should and would refuse Menzies a double dissolution, but the Governor-General agreed (with little hesitation) to provide one. McKell took the view that it was for the voters, not the Governor-General, to determine whether the Senate or Menzies was right: he saw it as his duty to act on the advice of his Prime Minister.
Also in 1951, McKell accepted a knighthood from King George VI. This caused considerable controversy in the Labor Party, as it was Labor policy to have nothing to do with knighthoods (a policy confirmed by the case of Queensland union leader Jack Egerton a generation afterwards); but there was nothing Labor could do about it, since McKell had severed all connections with the party on assuming office. Also it was unprecedented, and was still considered somewhat inappropriate, for a governor-general not to be at least a knight (if not a peer). McKell was the only Australian governor-general to be knighted during his term. He could use the title "Sir" once gazetted in 1951, but he was not formally bestowed the honour until 1953, when he was able to travel to Britain to see the monarch. By that time, George VI had died, and Queen Elizabeth II performed the ceremony.
His Official Secretary for the first few weeks was Sir Leighton Bracegirdle, whose retirement was overdue after serving McKell's three predecessors over 16 years. He was succeeded by Murray Tyrrell.
McKell retired in May 1953. From June 1956 to 1957 he served as a member of the Reid Commission, which was responsible for drafting the Constitution of the Federation of Malaya (now Malaysia).
McKell lived in Sydney for another 30 years, becoming considered one of the grand old men of the New South Wales Labor Party, although he never resumed any party or political activity. He died in Sydney in 1985.
Black & Gold Colours
The black & gold colours of Balmain are a bit of a mystery but rugby historian Sean Fagan provides these insights:
Balmain Sailing Club (also known as Balmain Rowing Club) in the mid/late 1880s had established black and gold as its colours, and being so prominent in the area, probably set an example for others to follow in Balmain sports – why they chose black & gold is a mystery.
The Sydney Morning Herald
Monday 15 November 1886
"…six clubs were represented-tho Royal Sydney Yacht Squadron, Prince Alfred Yacht Club, Sydney Amateur Sailing Club, Double Bay Sailing Club, Balmain Sailing Club, and the Sydney Amateur Canvas Dingy Club…..These two supported the black and gold of Balmain…"
The Sydney Morning Herald
Saturday 27 July 1889
"…and it is expected that a sixth crew will be got together from Balmain, although, should the wearers of the black and gold…"
The Sydney Morning Herald
Tuesday 7 February 1888
"…The Balmain Rowing Club having made the Hawkesbury sculler a life member, he will hence forth don the club's colours – the famous black and gold. As everyone knows, Beach always wore the black and gold as his racing colours…"
Referee
Wednesday 3 June 1896
[soccer]
"Balmain looked smart in their new colors — yellow and black striped shirt— although it was somewhat suggestive of the Quarantine Station."
Sunday Times
Sunday 5 September 1897
"…The Balmain Electorate Cricket Ground will be opened in right royal style on Saturday 25th inst….During the afternoon the Balmain Electorate Club will receive its presentation of colors, a richly worked flag in black and gold silk, the gift of the Mayor and Mayoress, Mr. and Mrs. G.C. Murdoch…"
UTS-Balmain joined the Sydney grade cricket competition in 1897 under the name of Balmain Electorate Cricket Club. The Balmain Electorate Cricket Ground is Birchgrove Oval.
It is therefore self evident the Balmain district RU club founded in 1900 fell into line with then established district (electorate) colours by adopting the black and gold.
I still haven't found anything to confirm any of the various Rugby clubs in Balmain in the 1890s wore black & gold. There are five pre-1900 Balmain rugby clubs/colours listed by Tom Hickie in his book "The Game for the Game Itself: the Development of Sub-District. Rugby in Sydney", but none are given the colours of black & gold.