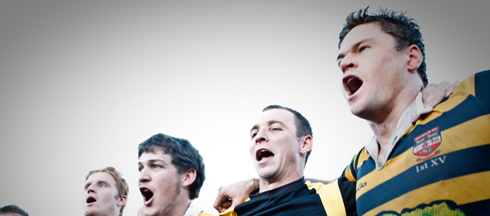 Balmain Rugby's club song comes from the chorus of the Fields of Athenry. To get the tune, watch the videos at the bottom of the page.
Down by the Balmain shores
I heard the locals calling
Rugby they have taken you away
Cause you merged because of War
Now we're back bigger than before
Oh it's so lonely at the top of the hill.
Low lie, the fields 'neath Balmain skies
Where once we watched the muzzled wolf cry
Two fish are on the crest
We're the boys from the inner West
We're so lonely on the fields 'neath Balmain skies
Down by the Balmain shores
I heard the locals calling
Rugby played the ways its meant to be
Against teams from far and wide
All our best stood by our side
Now we're flying with great pride and dignity
Low lie the fields 'neath Balmain skies
Where once we watched the Muzzled wolves play (repeat: And could we play)
We ran teams right off their ring
We had dreams and songs to sing
Of the glory on the fields 'neath Balmain skies (yeeeoowww)
Alternate chorus 3: (the 2010 Premiers version)
Low lie the fields 'neath Balmain skies
Where once we watched the King Lowey play (repeat: Oh could he play)
We had Chil 'n Del on the wing
And big Manion doing his thing
What a victory on the fields 'neath Balmain skies (yeeeoowww)